Corpus Christi Eucharistic Procession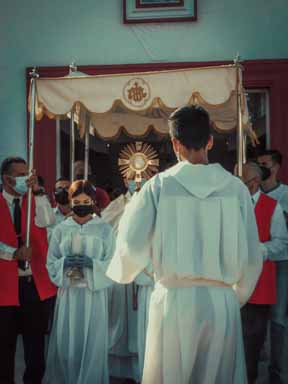 One of the key liturgical facets of Corpus Christi is its procession. Of course, processions have great biblical, liturgical and popular pietistic importance. In the Old Testament, think of the processions with the Ark of the Covenant, or the innumerable accounts of festal pilgrimage processions to Jerusalem — praising God with music and dance — of which the Psalms speak. Or in the New Testament, think of the procession of Christ through those first Palm Sunday crowds who shouted his praises. Processions of the faithful enable Christians to give public witness to their faith, give glory to God, and they symbolize our earthly pilgrimage to the heavenly Jerusalem.
Eucharistic processions began shortly after the institution of the solemnity of Corpus Christi. Often splendid and regal, the practice was encouraged by the Council of Trent so as to reiterate the Church's belief in the real presence of the Blessed Sacrament.2
Date & Time will be announced soon.
2- https://www.simplycatholic.com/celebrating-corpus-christi/